Detroit Pistons vs. Atlanta Hawks Preview
The Good Guys' Lineup:

The Bad Guys' Lineup: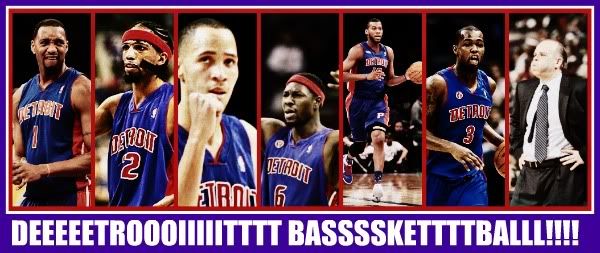 Who?: Detroit Pistons (25 – 44) @ Atlanta Hawks (39 – 30)
When?: March 20th, 2011; 2:00 PM (Eastern Time)
Where?: Philips Arena (Atlanta, GA)
How?: SportSouth HD(TV) and 99X FM(97.9 radio)
Detroit Pistons Blog(s): Need 4 Sheed, Pistons Powered
==============================================================================
Injuries:
Detroit: Jonas Jerebko (ruptured achilles tendon) is out.
Atlanta: None to report.
Pistons vs. Hawks Season Series:
The Hawks and the Pistons will face each other for the fourth and final time this season. So far, the Hawks lead the season series 2 to 1. The Hawks have won the only meeting in Philips Arena so far and 1 of 2 in Detroit at the Palace of Auburn Hills.
Cool Facts :
Larry Drew is a former assistant coach for the Detroit Pistons.
Larry Drew coached Rip Hamilton back when they were both in Washington Wizards.
Marvin and Rodney Stuckey played AAU ball together back when they were younger in Seattle.
This game features 3 Seattle players, Jamal Crawford, Marvin Williams, and Rodney Stuckey.
Jamal Crawford played his college ball in the University of Michigan.
==============================================================================
Believe it or not, the Pistons are looking more impressive than the Hawks right now. The Pistons have won 2 in a row. Can you believe it? One was against the Toronto Raptors, they won in a semi blowout by 14 points. That game was the first time Keuster gave his 4 oldest players the starting spot (Mcgrady, Hamilton, Prince, wallace) alongside Greg Monroe this season. The other win came against the Knicks. The Pistons rallied back from an 11 point deficit in the 4th quarter to win by 4 that game.
The Hawks on the other hand have lost 6 out of their last 8 games. They've lost two in a row. The Hawks team is just in disarray right now. Nothing is going right. Joe Johnson can't get it going. Josh Smith is getting more and more frustrating to watch. Al Horford is showing no fire. Marvin continues to show no fire. Jamal is in and out. Coach Drew can't get his guys to listen and his gameplans have been flawed. This team is as dysfunctional as it can get, when it comes to playoff teams anyway. It's getting so bad that it forced Al Horford to call a player's meeting. Yes. A player's meeting. That's when you know it's desperate times.
I like it though. In the past, the Hawks have shown up and played better after a player's meeting. It's usually a short term effect, but hey, the Hawks will take any win at this point.
However, I want to see the Hawks actually change some of the things they have done in recent games. They are capable of winning this game even if they play the kind of game they've been giving recently, but I want more than a W in this game. I want to see a much more improved team that shows they are a lot better than their opponent. A close or single digit win isn't acceptable to me.
What (or who) to watch out for?
The attendance. It's a Sunday game early in the afternoon, March Madness is going on, The Georgia Marathon is going on and some streets will be closed. Normally a Pistons game already has bad pretty bad attendance but with all these factors going on, will Philips Arena be basically empty? I wouldn't be surprised. Expect a horrible crowd at the start of the game. Maybe for the entire game.
Adjustments. Will Josh Smith limit his jumpers and go inside more? Will Joe Johnson rely less on Iso-Joe? Will the defense play on a string? Will Al Horford get more touches and be more aggressive? Will Marvin give more than usual? The players' meeting had to have discussed some of the Hawks' problems I just listed, right?
Jamal Crawford. It's his birthday. Can he go for fiddy?
Jeff Teague. Will Coach Drew play him? He fell out of the rotation on the Miami game. Can he climb back in?
Ben Wallace. He's had dominant performances on the boards and on defense against the Hawks in the past 2 seasons, can he have another one?
==============================================================================
Prediction: The Hawks should win this one. They are clearly the more talented and better team. If the Hawks can slightly improve on their decision making, they should win this one pretty easily.