Boston Celtics vs. Atlanta Hawks Preview
The Good Guys' Lineup:
The Bad Guys' Lineup: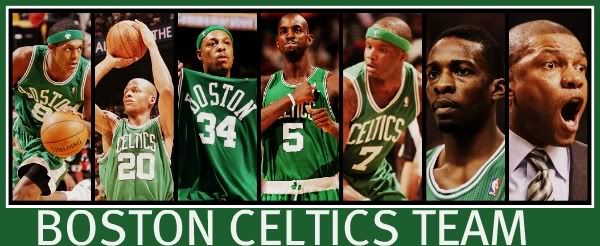 Who?: Boston Celtics (52 – 22) @ Atlanta Hawks (43 – 32)
When?: April 1st, 2011; 8:00 PM (Eastern Time)
Where?: Philips Arena (Atlanta, GA)
How?: ESPN(TV), ESPN3D(TV), & 99X FM(97.9 radio)
Boston Celtics' Blog(s): CelticsBlog, Hardwood Houdini
==============================================================================
Injuries:
Boston: Shaquille O'neal (leg), Troy Murphy (ankle), Nenad Krstic (knee) are all out.
Atlanta: Everyone is expected to play.
Celtics vs. Hawks Season Series:
The Hawks will face the Boston Celtics for third and final time this season. So far in the two games they've played against the Celtics, the Hawks are 0 for 2. The Hawks have lost by a combined 35 points in the 2 losses against the Celtics this season. Last season, the Hawks swept the season series 4-0. This season, the Hawks will need to win tonight in order to avoid a 3-0 season series sweep.
Doc Rivers is one of the best guards to ever put on a Hawks uniform. He leads the Atlanta Hawks franchise in total assists.
Joe Johnson was drafted by the Boston Celtics. They traded Joe in the middle of his rookie season to Phoenix.
Josh Smith and Rajon Rondo were teammates in high school at Oak Hill Academy.
Celtics development coach, Tyronn Lue, played for the Hawks from 2004 up to 2008.
==============================================================================
What (or who) to watch out for:
Josh Smith. Josh Smith. Josh Smith. Josh Smith. Simple really. He's been playing recently and it will be interesting to see if he can continue his good play with the Celtics tonight. In the past two games against the Celtics, Josh Smith has a point total of 3. Yes, 3. He's also 0 for 11 from the field against the Celtics this season. In order for the Hawks to compete in this game, Josh Smith has to play well.
Joe Johnson. I woke up this morning remembering Joe Johnson's Game 4 performance vs. the Celtics in the 2008 playoffs. Why do I have a feeling that we'll see something like this from Joe tonight?
Kirk Hinrich guarding Rajon Rondo. Rajon Rondo had his way against Tony Parker & the Spurs yesterday scoring 22 points and recording 14 assists. A Rondo night like yesterday has to be avoided.
Ball movement. In the past games against the Celtics this season, I thought the Hawks offense looked stagnant too many times. The Hawks need to move the ball and move quickly on offense. No ball stopping (*cough* Joe & Jamal *cough*) tonight please. It's hard enough to score against the Celtics and going iso and playing slow offense won't help you (Hawks).
Bench play. The Celtics obviously have more depth. Even with their current injuries, it still looks like the Celtics have the better bench. Zaza and Jamal are two players that you have to rely on every night since they are the only two bench players who get consistent minutes, but if Jeff Teague and Damien Wilkins somehow get the minutes they deserve tonight, they need to play well. Oh yeah, Zaza…I want to see a repeat performance of this tonight.
Philips Arena crowd. This is another big time game against a big time team. Will Philips Arena have a split of half Hawks fans and half Celtics fans? Also, watch out for the celebrities that will show up in this game. Any time there is a marquee Hawks game playing in Philips Arena, celebs come out to watch. There's at least one Atlanta star athlete going to the game so far.
==============================================================================
Prediction: I was wrong about my last game prediction as the Hawks didn't lose to the Magic. Hopefully I won't be wrong this time as I'm picking the HAWKS TO WIN this one. It's bold of me to do since the Hawks have been completely dominated by the Celtics this season, but I have a feeling everyone in the Hawks' locker room will be looking to send a statement.
Tags: Atlanta Hawks Boston Celtics Game Preview Joe Johnson Josh Smith NBA