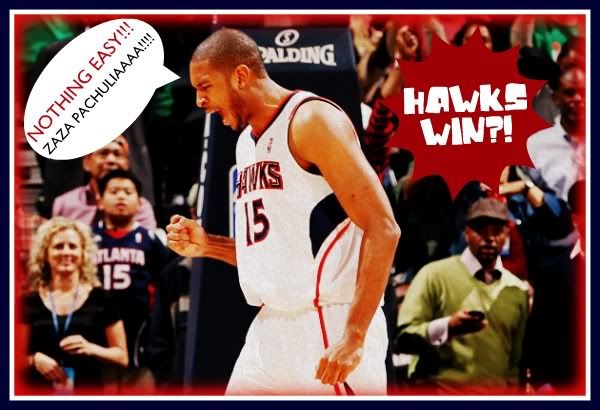 Quick Recap for those who didn't watch it….
Let's get to it right away. Start of first quarter, Josh Smith was the story. Not in a good way. In the first 3 minutes of the game, Josh Smith took 3 shots and missed 3 shots. 2 of those attempts were from jumpshots. Not only that, but his defense was non-existent too. However, that wasn't the story of the first quarter. Real story is, two tiny altercations happened. One with Joe Johnson fouling Pierce (not that hard) and Pierce retaliating with a shove, and one with Zaza Pachulia bumping into Jermaine O'neal and J.O retaliating by pushing Zaza. Not much of a big deal as no one got ejected, but the physicality kinda represents how big of a game this was. Anyway, thanks to Rajon Rondo's misses (2 for 7 from field in 1st quarter), the Hawks managed to take a 2 point lead after one quarter. Asides from the 10 points Paul Pierce contributed in the quarter, there wasn't any notable contributions from other players of either team.
Start of second quarter, Delonte West abused Jeff Teague in the few minutes he played. Teague couldn't get anything offensively and Teague had a hard time sticking to Delonte. L.D. took Teague out because of it, never saw the floor again. Anyway, one performance to spotlight in the second quarter was Jamal Crawford's offensive outburst. At one point, Jamal Crawford scored 12 straight points for the Hawks and led the Hawks in a 12-4 run. Unfortunately for the Hawks, after that run, the Celtics got on a 14-5 run of their own in the last five minutes to take an 8 point lead at halftime. The biggest difference in the second quarter was the offensive end. The Celtics seemed to make every single shot while the Hawks continued to get good looks. The Celtics were 13 for 19 from the field in the second quarter while the Hawks were 7 for 18 from the field. One
Third quarter, this is when things started getting real ugly for the Hawks. 6 of the Hawks' first 7 field goal attempts in the quarter were jumpshots. Bad jumpshots at that. The Celtics started the same way too, but they made a bit more. Because of that, the Celtics got to extend their 8 point halftime lead up to 12 points. It actually got so bad that the "Let's Go Celtics" chants came from a Philips Arena crowd. The Hawks offense just looked completely horrendous for most of the quarter. Shot selections were a problem and they turned over the ball multiple times. Thankfully, they could count on their defense. The Celtics were missing shots just as much as the Hawks were. Anyway, the Hawks got it going late in the quarter, scoring 7 straight points in the last minute and half of the 3rd. Because of that little run late in the quarter and the solid defense they played, the Hawks managed to outscore the Celtics by 2 in the quarter despite the terrible outing in the offensive end. Hawks were down six after three quarters, 68 to 62.
Within two minutes of the second quarter, the Hawks actually took the lead 71-69, as Zaza Pachulia scored 6 points and Joe Johnson scored 3 points from free throws. From that point and up until the buzzer, the Hawks had control of the game as they played solid defense on the Celtics all quarter long. The Hawks offense looked stagnant once again in the 4th quarter, Joe Johnson being the main problem. Joe just tried to isolate and score on his own but he wasn't converting (going 1 for 9 from the field in the 4th). But thanks to good offensive play by Zaza and Al Horford, the Hawks managed to win this one.
Final Score: Celtics: 83 | Hawks: 88
==============================================================================
Hawks won this game because of 6 reasons (in order):
Defense playing well all game. When you can hold a team under 85 points, you're most likely going to win or going to be in it in the 4th quarter. With the offense being out of sync for most of the game, the Hawks got to rely on their defense and made sure this game didn't turn into a blowout.
Zaza Pachulia making big plays throughout the game, especially the 4th quarter. Zaza scored huge 10 points in the 4th and grabbed 6 key rebounds for the Hawks, 3 of the rebounds being offensive rebounds. Zaza Pachulia finished the game with 15 points and 10 rebounds. NOTHING EASY!!!
Glen Davis absolutely hurting the Celtics in the 4th. He missed 5 of his field goal attempts and 2 of the biggest free throws of the game. Ouch. Al Horford also had his way offensively against him.
Al Horford playing solidly on both ends in all 4 quarters. 16 points and 15 rebounds for Al Horford. Made Jon Barry look smart.
Jamal Crawford's 15 point outburst in the first half. Hawks would have been blown out in the first half if it wasn't for Jamal.
Injuries by Celtics (Shaq, Kristic,and Troy Murphy) & the fact that they traded Kendrick Perkins.
Give props to Larry Drew as well. It was smart of him to take out Josh Smith and insert Zaza Pachulia. Josh Smith was hurting the Hawks all game long with his terrible shot selection. L.D. recognizes the problems we see too. In the interview with Lisa Salters before the 4th quarter, L.D. said that shot selection was the biggest problem. Only thing though, Coach Drew needs to do something about it and last night, he did. He took Josh Smith out and put in Zaza Pachulia.
I know what you're thinking, Joe Johnson was taking terrible shots too…why didn't Coach Drew take him out? Well, at least Joe was drawing fouls and going to the free throw line. Joe had 11 free throw attempts, Josh had zero. Also, Joe is someone the Celtics will have to put pressure on, no matter how cold he is from the field. Joe is a scorer and a team would be dumb to not focus on him when they're playing defense. Josh on the other hand, if he's cold….the opposing team could care less about him on offense. Josh Smith just doesn't have the same scoring ability as Joe.
All I know is, I will never be happy when Josh Smith shoots a jumpshot, make or miss. Because when Josh Smith does make it, it encourages him to take more. If he misses, he's not bothered by it. That's exactly what happened yesterday. After shooting it fairly well against the Magic, Josh Smith took a lot of jumpshots yesterday and when the jumpshots weren't falling, he continued to rely on it. I'm afraid by the time Josh Smith figures out that he doesn't have a jumpshot and the best way for him to score is inside attempts, that his athleticism will hinder him from being effective. I just hope Josh Smith watches this game back with the ESPN broadcast turned up, and he hears how much Hubie Brown hates his shot selection.
Also to defend Joe Johnson here more. I would rather have an aggressive Joe Johnson than a passive Joe Johnson. With the amount of money he's getting, Joe has to be aggressive. He needs to (at least attempt) carry the team offensively. I'm not going to lie though, he looked like Jordan Crawford out there yesterday, gunning every single shot that he can. I agree that he took way too many shots, I just probably don't feel as frustrated as most Hawks fans are.
My other Noteable Notes:
Glen Davis had a horrible 4th quarter, but give him credit for d-ing up Al Horford all game though. Al Horford had to work for every single one of his points against Glen Davis.
Also, I love the Rondo and Hinrich matchup. Both players played hard. Rondo seemed to have gotten more good plays on Kirk than Kirk had on Rondo, but Hinrich played Rondo well defensively. But I like that they seem to not like each other….I wonder why that is.
Final attendance count: 19,763. Probably more than half were Celtics fans….glad to know the Hawks shut them up and embarrassed them for even showing up to the game.
This is the last national televised regular season game for the Hawks. Next time the nation sees us, it will be in the playoffs! Playoffs baby!!!!
Next up: On to Houston to face the Rockets. That game will be the last time the Hawks travel to the West Coast this season…unless they make the NBA Finals. It will be a tough one. Rockets are coming off a really huge win against the San Antonio Spurs.
Final Thought: Is this Hawks team finally forming a defensive identity?
Tags: Al Horford Atlanta Hawks Boston Celtics Game Recap Glen Davis Jamal Crawford Joe Johnson Josh Smith Larry Drew NBA Paul Pierce Zaza Pachulia