Charlotte Bobcats vs. Atlanta Hawks Preview
The Good Guys' Lineup: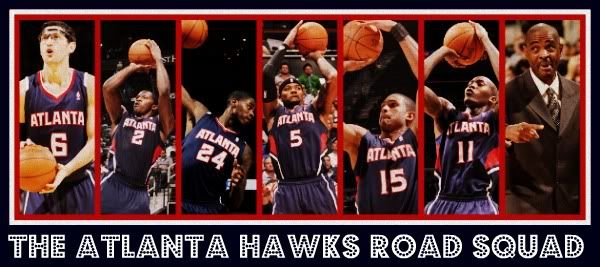 Who?: Atlanta Hawks (44 – 37) @ Charlotte Bobcats (33 – 48)
When?: April 13th, 2011; 8:00 PM (Eastern Time)
Where?: Time Warner Cable Arena (Charlotte, NC)
How?: SportSouth HD (TV), & 99X FM(97.9 radio)
Fansided's Charlotte Bobcats Blog: Roberto Gato
==============================================================================
Injuries:
Charlotte: Desagana Diop (achilles tendon), Stephen Jackson (hamstring), Shaun Livingston (tailb0ne), Eduardo Najera (back), Joel Przybilla (knee), and Tyrus Thomas (knee) are all out or doubtful.
Atlanta: Jason Collins (ankle) is still out.
Bobcats vs. Hawks Season Series:
Atlanta will face the Bobcats for the fourth and final time this season. This season, the Hawks are winning the series 2-1. The Hawks have won 1 game in Atlanta and 1 game in Charlotte. Their last loss on February 12th, was in Atlanta when
Stephen Jackson hit a game winning shot at the buzzer
. However, a lot has changed since the last time they faced each other. Both teams have made roster changes and Charlotte is even more injury riddled.
Cool Facts:
Zaza Pachulia was a Charlotte Bobcat for one day as Charlotte selected him in the 2004 Expansion Draft. He was traded to Milwaukee the day after.
Boris Diaw was drafted by the Hawks. He played 142 games in a Hawks uniform. The Hawks eventually traded him to Phoenix alongside two first round picks for the current All-Star guard, Joe Johnson.
Kwame Brown is a native of Brunswick, GA.
Josh Powell was born in Charleston, South Carolina.
Bobcats coach, Paul Silas spent time in a Hawks uniform in the 1960's.
A win or loss for the Hawks tonight will give the Hawks either a winning or losing record on the road. The Hawks currently hold a 20-20 record on the road this season.
==============================================================================
What (or who) to watch out for:
Effort. This Bobcats team may look weak right now, but again, this is a team that has nothing to lose and a team that is looking for a win versus a playoff team at the end of the season. This is also the Bobcat's final home and regular season game so I don't expect the Bobcats to lay down tonight. The Hawks on the other hand, have clinched the 5th seed and a playoff spot. Because of that, it seems like winning games isn't a priority to them. However, it will have to be. The Hawks are currently riding a five game losing streak. I would hate to see the Hawks end the regular season and start the post season with a six game losing streak. If the Hawks don't show up, the Bobcats will win this game even though they are less talented and more banged up.
Bench play. I'm guessing L.D. will probably use the same type of rotation he used against Miami on Monday tonight against the Bobcats. That being said, the bench should get a lot of minutes tonight like they did on Monday. They made use with most of their minutes last game, can they do it again?
Any signs of changes. Shot selection. Rebounding. Interior Defense. Perimeter defense. Ball movement. Accuracy of jumpshots. The team has had trouble with these things all season long. Not all at the same time, but every game, at least one of these are a problem. Will there be any signs that maybe things will be any different in the post season?
==============================================================================
Prediction: I'm surprisingly scared tonight. There's a lot of pressure on the Hawks to win this one in my opinion. A six game losing streak is not the type of momentum a team wants to carry to the playoffs. With Charlotte playing their final regular season game and their final home game, I can see this Bobcats team doing whatever it takes to win this game. I can't say if the Hawks are willing to do that. Effort hasn't exactly been the Hawks' forte recently. However, I think the Hawks prove me right this time as I'm picking them to win it. I think the Hawks will play with good energy and even though the minutes of the starters for the Hawks may be limited, they win this one because the Hawks' bench is probably just as good as the Bobcats' injury plagued team.