NBA Playoffs 2017: Atlanta Hawks Need "Playoff Dwight"
The Atlanta Hawks have served home court thus far, but to avoid falling into a 3-1 series hole and hopefully win this round, all of the team's stars must contribute.
This first-round series has seen the usual superior play from Paul Millsap. It has also seen some surprise performances by first-year starter Dennis Schroder.
Millsap just dropped a 29-point 14-rebound revenge bomb on the Washington Wizards' frontcourt. 'Dennis the Menace' has averaged 25 points and eight assists in three games with only 2 turnovers per contest (Proceed to drop jaws). While the team's two best players have done their fair share, someone else hasn't.
Where has he gone?
Dwight Howard has put up 6.0 points and 10.7 boards in three games. He has also looked outworked at times by his former backup Marcin Gortat, who apparently is keeping kryptonite under his jersey. Coach Budenholzer even kept the star big man out of last game's fourth quarter. Outside of being under his averages 13.5 points and 12.7 rebounds, Dwight's sub-par playoff showing is uncharacteristic, period.
Howard's performances in the playoffs have been generally magnificent and usually provide future stories to tell. Whether it was dragging the Orlando Magic to the NBA Finals or the obnoxiously dominant performance in the 2014 playoffs against LaMarcus Aldridge (who balled out just as much in that wonderful series), he consistently produced.
So, it's no surprise that he earned the nickname "Playoff Dwight" for this time of year. To easily sum it up, Dwight Howard has averaged: 18.7 points, 13.9 rebounds, and 2.5 blocks in postseason games.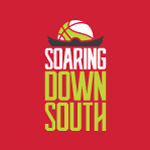 Want your voice heard? Join the Soaring Down South team!
Write for us!
There's Still Time
The Hawks' starting center doesn't face a hard road to get himself right.
He has the size, he's been playing good this season, and the Wizards' interior defense isn't great. While his fit on offense has been hit-and-miss all season, his size and rim protection have been a revelation for the squad. John Wall is even quoted saying that Dwight's paint presence is something that the Wizards pay attention to.
Having rim protection against Wall would be nice for Atlanta. Dwight just needs to find himself offensively so Coach Bud has a reason to keep him on the floor.
While the Hawks got a blowout win mostly without Howard, the team cannot rely on a dominant bench performance every game. Betting on Schroder and Millsap to play near-perfect the entire series is also a mighty gamble. If Dwight can showcase some of his inside dominance from yesteryear, he'll be able to stay on the court long enough to provide the defense that Wall fears.
And as Cleveland and Golden State have shown, you need at least three stars rolling to make it anywhere in the playoffs.