Hawks star the 'x-factor' for HC Quin Snyder's plan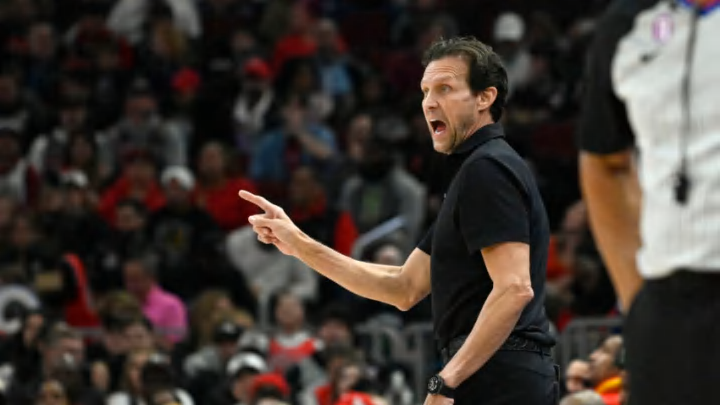 Atlanta Hawks, Quin Snyder. Mandatory Credit: Matt Marton-USA TODAY Sports /
It's no secret that the Atlanta Hawks will go as far as Trae Young takes them.
But and underlying key to that will be his willingness to let someone else – and sometimes multiple people – do the driving.
"Quin Snyder has a track record of maximizing team potential," wrote Kevin O'Connor of The Ringer on October 4. "But the X factor here is Trae Young's willingness to buy into Snyder's vision."
Atlanta was 41-41 last season with Snyder taking over as head coach after the the All-Star break. Even though the Hawks went just 10-11 under him in the regular season and suffered their second consecutive first-round playoff exit, they played a noticeably different style of basketball than they did under his predecessor, Nate McMillan.
O'Connor points to the number of different Hawks players who can create offense.
In addition to Young's fellow guards – Kobe Bufkin, Patty Mills, and Dejounte Murray – the Hawks have Bogdan Bogdanovic and AJ Griffin on the wings.
They also have De'Andre Hunter and Jalen Johnson in the frontcourt, both of whom can get their own shot and/or help create for others. Johnson is in a battle with Saddiq Bey for the final spot in the starting lineup.
"It's clear as day that the Hawks are trying to build a motion system, which requires Trae to give up the ball," O'Connor continued. "If Trae is all in, then the Hawks could be on the cusp. If things implode, it won't be long until teams around the league view Young as the next star on the trade block."
Teams – and pundits like O'Connor – have long speculated over Young's longevity in Atlanta.
And the Hawks' seemingly straddling the path between retooling and adding to this core has only served as a rallying point for that speculation.
"Atlanta's outlook is somewhere between murky and mediocre," wrote Zach Buckley of Bleacher Report on July 18. "If Atlanta has wondered whether this mix is right, it's reasonable to assume Young could be having the same thoughts."
For his part, Young has only spoken of bringing a title to Atlanta.
And he has sounded as though he is indeed fully bought into what Snyder has planned for him and the Hawks to help them get over the hump. After making the Eastern Conference Finals in 2020-21, the Hawks have been bounced from the postseason in the first round in each of the last two years to Young's chagrin.
But he too believes Snyder will make a big difference.
"Bringing Quin in halfway [through the season], I think, is a game changer for us," Trae Young said on the debut episode of the 'From The Point' podcast on June 1.
Trae Young high on pairing with Hawks teammate
Even more, Young is still high on his backcourt partnership with Murray whom he played a role in bringing to Atlanta. The two etched their names into the history books last season and Young thinks they can be "special" citing Murray's ability to quarterback the offense.
"You got to have guys on the court that can think," Young said on the August 4 episode of the "Gil's Arena" podcast. "Having a guy like DJ, I can throw it to him and I know he's in attack mode. He can catch it and go with somebody holds, he can hit the shooter – he can hit Bogi in the corner."
If things play out this way, the Hawks will have no problems escaping the constant rumor mill, at least for this.