Hawks' Dejounte Murray roasts analyst over ill-informed prediction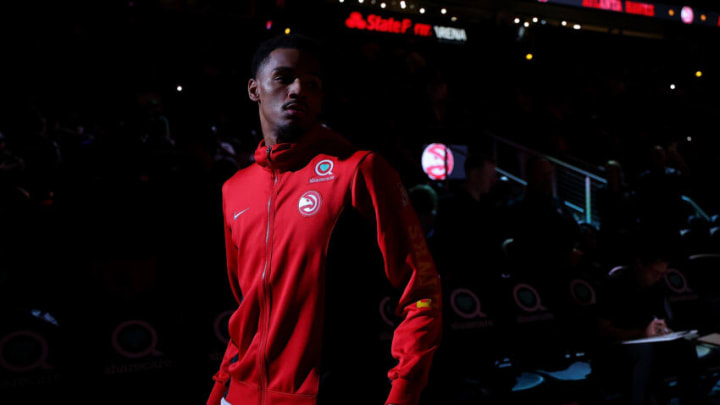 Atlanta Hawks, Dejounte Murray. (Photo by Kevin C. Cox/Getty Images) /
Atlanta Hawks star Dejounte Murray isn't one to mince words. And it seems to intensify in disagreement.
For the second time in as many weeks, Murray took to social media to decry something, this time a prediction from The Ringer podcast host Chris Vernon, who suggested the Hawks would not he able to afford to pay Murray after his current contract expires.
The problem with that is Murray already re-signed on a four-year, $120 million contract this offseason.
"Dumb MF's Just Talking," Murray exclaimed in a post on X in October 20.
As was the case with the last instance, Murray ultimately deleted the tweet. But it does go to show the fallible nature of national coverage when it comes to some of the finer details.
Told of his mistake, Vernon doubled down.
https://twitter.com/ChrisVernonShow/status/1715363971027403225
The Hawks acquired Murray last offseason in on of the biggest blockbusters of the summer.
He and Trae Young made history as a duo. But team success eluded them.
This offseason, both players have shown a renewed vigor towards to upcoming campaign and, in particular, what they can accomplish as a duo.
"I think we can be we can be special," Young said on the "From The Point by Trae Young" podcast on August 4. "For me, I don't like necessarily talking about it. I like going out and doing it. So like it's different for me talking about it. But I know we can be special."
They are pushing one another and the team.
"Be better than last year," Murray said on media day on October 2. "Establish an identity from jump, which I feel like we're on the right road towards, just having the whole team here a month ago. … So be better than last year, and win and be a top-four seed. Being a Play-In team is not optional."
Hawks warned of looming "luxury tax crunch"
Just because Murray is locked up and locked in for the next four seasons at least doesn't mean the Hawks are out of the woods.
They still have to address the looming contract situations of Saddiq Bey and Onyeka Okongwu.
"The Atlanta Hawks … extended Dejounte Murray on a great deal but have just the luxury tax crunch from hell coming next year if they resign both of these guys and don't flip another big salary," ESPN's Zach Lowe said on "The Lowe Post with Zach Lowe" on October 20.
Atlanta is slated to be just over $22 million below the luxury tax threshold next season.
That has only spurred trade speculation.
It's important to remember that the Hawks can certainly pay to retain their players as they see fit. But the restrictions that come with being a luxury tax team will soon become far too prohibitive to be one while not being a clear-cut title contender.
The Hawks found themselves in the Play-In Tournament last season.
To Murray's point, a repeat would seem to be unacceptable given the potential ramifications.